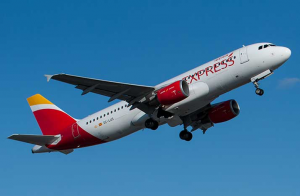 With more than 82% of its flights on time in 2018, Iberiaitself was ranked Europe's 3rd most punctual carrier (6thin world and 1st in Spain), according to industry monitorsFlightGlobal.
The low-cost Iberia´s subsidiary unit, Iberia Express, held tight to its number one position in the world in 2018, with 86.47% of its flights arriving on time.
These results were achieved in a difficult year for commercial aviation in Europe, with strikes by air traffic controllersand saturated air space.
Madrid, 10 January – The new year got off to a good start for the Iberia Group with the news that its low-cost subsidiary unit, Iberia Express, put in the world's best on-time performance for the fifth year running, though this year it was equalled by Brazil's Azul, according to industry consultants and record-keepers FlightGlobal. This was regarded as a major achievement in such a competitive segment of the aviation industry.