Choc-o-lait wordt MoMe en breidt aanbod uit met nieuwe smaaksensaties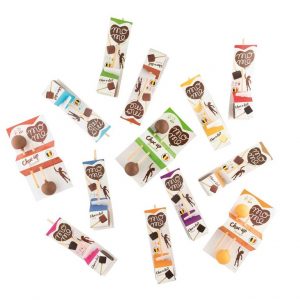 Al sinds het prille begin wordt Choc-o-lait gekenmerkt door een dynamische en innovatieve aanpak, een honger naar vernieuwende smaakvolle trends. Het begon in 2004 met een blokje echte Belgische chocolade op een stokje die men zelf al roerend laat smelten in een tas hete melk, een concept dat een instant succes bleek, zo succesvol zelfs dat Choc-o-lait ondertussen in meer dan 40 landen wordt verkocht.
Hun ambitie dreef Choc-o-lait ertoe het aanbod uit te breiden met nog meer nieuwe smaaksensaties die verder gaan dan het originele warme chocolademelk verhaal, zonder de essentiële kenmerken van Belgische kwaliteit en vakmanschap uit het oog te verliezen.
Choc-o-lait bleek als naam te beperkend voor de groei die de onderneming doormaakt, een nieuw moedermerk kondigde zich dan ook aan en dat wordt MoMe.
Dankzij MoMe, dat voor More Memories staat, krijgt het verhaal ook een vervolg buiten het typische warme chocolademelk seizoen, het hele jaar door.  MoMe creëert zo nog meer authentieke en gezellige momenten met een nog groter aanbod aan originele producten.
De oorspronkelijke smaakmakers blijven een vaste waarde maar zij krijgen het lekkere gezelschap van de MoMe Mallows,  MoMe Lolly, MoMe Cordials, MoMe S'mores,
MoMe Choc-up en de MoMe Spoon+.
De dynamische passie van MoMe zie je ook weerspiegeld in het nieuwe logo, dat in vier verschillende energieke versies komt.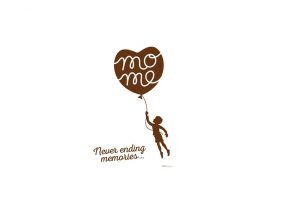 Nieuwe concepten
De nieuwkomers in het MoMe verhaal zijn stuk voor stuk smaakbelevenissen met een hartverwarmend en gezellig karakter die mensen bij elkaar brengen, de ideale sfeermakers om nog meer 'memories' samen te creëren.
De MoMe Mallows zijn 100% artisanaal gemaakte marshmallows met een zachte smaak, die smelten op je tong. Ze komen in 7 variëteiten: vanille, framboos, passievrucht, kokosnoot, gezouten karamel, vanille gehuld in chocolade, gezouten karamel gehuld in chocolade.
De MoMe Lolly bestaat uit een stuk pure authentieke Belgische chocolade met heerlijke toppings: hartjes, chocolade dragees of discobolletjes en komt in drie smaken: melk, fondant en vanille.
Met de MoMe S'mores brengt MoMe een Belgische versie van de in de VS en Canada immens populaire S'mores op de markt met een volledige do-it-yourself kit: marshmallows, Belgische chocolade en amandelkoekjes én zelfs de stokjes waarmee je de marshmallows roostert boven een (kamp)vuur.
De MoMe Cordials zijn een concentraat van vers fruit en/of botanicals die als basis dienen om homemade limonades, cocktails, mocktails of zelfs warme dranken te maken. Het gamma bestaat uit vier fruitsoorten en twee thee cordials: citroen, spicy gember, tropical, aardbei – munt, groene thee & jasmin en Earl Grey & hibiscus.
De MoMe Choc-up is een lolly bestaande uit een heerlijke vulling gehuld in Belgische chocolade verkrijgbaar in de smaken hazelnoot, karamel en sinaas. Deze kunnen zowel als lolly opgegeten worden maar kunnen ook dienen voor het aromatiseren van koffie, melk of thee.
De MoMe Spoon+ is een blokje Belgische chocolade op een stokje die je net zoals MoMe
Choc-o-lait laat smelten in een tas hete melk. Maar, zoals de naam laat vermoeden, heeft de MoMe Spoon+ een extra topping: amaretto, rum, marshmallow of hartjes.