airBaltic Recognized Among the Most Beloved Brands in Latvia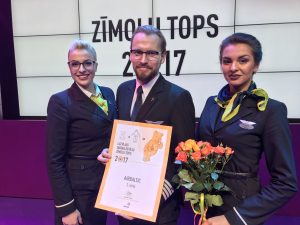 Riga. The Latvian airline airBaltic has received 3rd place in the Latvian brand perception research "Most beloved brand TOP" category "Top employer". airBaltic is also recognized as the most beloved airline brand in Latvia.
Daiga Ērgle, SVP Human Resources of airBaltic: "We are truly excited to be once again recognized among the best employer brands in Latvia. airBaltic with its modernized fleet, expanded route map, increased number of performed flights and carried passengers is constantly seeking new talent and investing in the development of current employees. We are happy to see that people recognizes and appreciates that."
airBaltic has been consistently ranked among the best employers in various nationwide studies and surveys since 2007: (1st in TOP Employer in transport and logistics sector from 2013 till 2016, 1st in TOP Employer in 2011, 2nd in TOP Employer and Most Coveted Employer in 2010, 3rd in TOP Employer in 2008 and 2007).
The number of airBaltic employees over the year has increased by 15% and currently the airline employs over 1 350 professionals from almost 30 nations.
This year airBaltic also has a strong breakthrough in the Baltic most beloved brand TOP 100, receiving the 99 place that is +40 places higher than the year before.
airBaltic operates direct flights from Riga to over 60 destinations. airBaltic offers convenient connections via Riga to its network spanning Europe, Scandinavia, the CIS and the Middle East. In addition, airBaltic also offers direct flights from Tallinn and Vilnius.
*Most beloved brand TOP is developed by DDB Consulting, Accenture Latvia, Latvijas Zaļais punkts, Amrop Latvija, Httpool, RAIT Custom Research Baltic, Kapitāls, Startin.LV, Delfi and Labs of Latvia – https://www.zimolutops.lv/ .