Taiwan asks China to explain human rights worker's prison transfer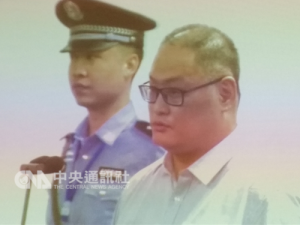 Taipei, Oct. 25 (CNA) Taiwan's Mainland Affairs Council (MAC) has asked China to provide an explanation as to why jailed Taiwanese human rights advocate Lee Ming-che (李明哲) was abruptly transferred to another prison in Hebei Province, Deputy Minister Chiu Chui-cheng (邱垂正) said on Thursday.
Lee, a Taiwanese democracy advocate, has been detained in China since March 2017 and was sentenced to five years in prison after being convicted of "subversion of state power" in November last year.
Before his transfer, Lee was imprisoned at Chisan Prison in Hunan Province.
Chiu said the council was informed of Lee's prison transfer by the Taiwanese business association in Hunan, which said it was notified by the Chinese government on Oct. 19 that Lee had been taken to Yancheng Prison in Hebei.
According to the association, the authorities did not provide further explanation.
Lee's family members were unaware of his transfer, the MAC official said.
MAC and the Straits Exchange Foundation (SEF) have already asked China's Taiwan Affairs Office (TAO) and Association for Relations Across the Taiwan Straits (ARATS) to provide an explanation over Lee's abrupt transfer, including information on Yancheng's visitation regulations, Chiu said.
Founded in 2002, Yancheng is one of two prisons in China that are run directly by the central government. The facility spans 44 hectares and has the capacity to house over 1,600 prisoners, according to information published online by China's popular search engine Baidu Inc.
(By Miao Zong-han and Ko Lin)
Enditem/cs