Wizz Air undertakes Ukrainian expansion from Billund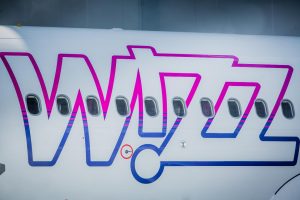 Already serving Billund Airport from eight destinations in Bosnia and Herzegovina, Lithuania, Poland and Romania, and soon Austria, Wizz Air, Central and Eastern Europe's second largest airline, has confirmed that from 2 March 2019 it will add Ukraine to its list of country markets from Denmark's second busiest airport.
The Ultra Low-Cost Carrier (ULCC) will begin a twice-weekly (Tuesdays and Saturdays) service from Kiev Zhulyany, with the airline operating the 1,540-kilometre city pair using its fleet of 180-seat A320s.
"Wizz Air is one of the most-recognised airline brands in Europe, and we are excited about the prospect of the carrier continuing its expansion in the West Denmark market," says Jan Hessellund, the new CEO of Billund Airport. "With Vienna being added by Wizz Air later this year, I am delighted to add another capital city to our ever-growing destination map. It's also fantastic news to provide our loyal customers with a new country market next spring, with access on direct services from their home airport."
The ULCC is already Billund's sixth largest carrier (in terms of weekly one-way seats) of the 24 airlines currently flying to the airport this summer. In S18, Billund offers direct flights to 29 different country markets.
For S19, Wizz Air will offer 19 weekly frequencies from Denmark's fastest growing major airport, providing in excess of 3,500 one-way weekly seats to destinations including Bucharest, Cluj-Napoca, Gdansk, Iasi, Tuzla, Vienna, Vilnius, Warsaw Chopin and the confirmed route to Kiev Zhulyany.
Wizz Air will commence its ninth route from Billund Airport on 2 March 2019, when the carrier introduces a twice- weekly service to Kiev Zhulyany. Before upcoming Ukrainian capital city launch, the airline will add a twice-weekly service to Vienna in November.