Taiwan's president wants dialogue with China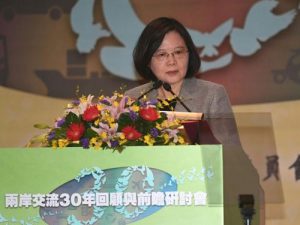 Taipei, Oct. 26 (CNA) President Tsai Ing-wen (蔡英文) called on the Communist Party of China (CPC) Thursday to begin dialogue with her administration to bring an end to hostilities between the two sides and the fear of war.
In her first response to the just-concluded CPC's 19th Party Congress that saw Chinese President Xi Jinping (習近平), also general secretary of the CPC, emerging as a formidable leader, Tsai said that China's ruling party has entered into "a whole new era of ruling."
Tsai said that when she was inaugurated May 20 last year, she urged the ruling parties on each side of the strait to begin dialogue. After the CPC's party congress, she said that "now is the turning point" to change cross-Taiwan Strait relations.
Tsai again urged the two sides of the strait to display the wisdom that has carried both sides over 30 years to work for a breakthrough in cross-strait relations and long-lasting benefits for the people on both sides.
(By Shih Hsiu-chuan)
Enditem/J