Taiwan protests against Qatar Airways designation of Taiwanese staff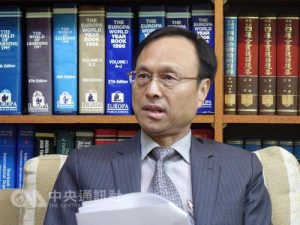 Taipei, Oct. 3 (CNA) The Taiwan government has lodged a protest with Qatar Airways over the airline's designation of the nationality of flight attendants from Taiwan, the Ministry of Foreign Affairs (MOFA) said Tuesday.
Chen Chun-shen (陳俊賢), chief of MOFA's Department of West Asian and African Affairs, said the 100-plus Taiwanese flight attendants employed by the state-owned flag carrier have recently been designated as "Chinese (TWN)" on their work IDs.
The change was made in September, from "Taiwanese" to "Chinese (TWN),"obviously due to pressure from China, where Qatar Airways has seven destinations, Chen said in a regular press briefing.
MOFA has lodged a protest through viable channels, in view of the fact that Taiwan does not have a representative office in Qatar, and is awaiting a response from the airline, he said.
The Taiwan government, however, does not hold any business bargaining chips that can be used to negotiate with Qatar Airways because the airline does not serve any destinations in Taiwan, Chen said.
A similar situation had occurred in May with Emirates, in which the carrier ordered its Taiwanese cabin crew members to use Chinese lapel but revised the directive after Taiwan protested.
Emirates operates six routes in Taiwan.
(By Ku Chuan and Y.F. Low)
Enditem/pc