TAIUNA to appeal for Taiwan's desire to join UN in New York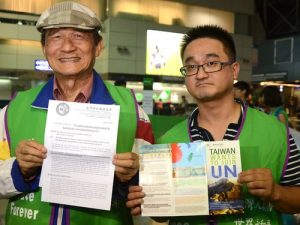 Taipei, Sept. 8 (CNA) The Taiwan United Nations Alliance (TAIUNA) on Friday sent a 25-member team to New York to express Taiwan's desire to join the United Nations (UN).
TAIUNA President Michael Tsai (蔡明憲) said in the interview at the Taiwan Taoyuan International Airport prior to the team's departure that 80 percent of Taiwan's citizens wished for the country to join the UN as Taiwan.
Tsai said the goal of the trip is to help the United States clearly understand Taiwan's appeal.
The delegation will also meet with members of the United States Congress, think tank scholars and officials.
Taiwan has tried without success to re-enter the U.N. since 1993, after losing its seat to the People's Republic of China in 1971.
(By Chiu Chun-chin and William Yen)
Enditem/cs