P&O Ferries releases first images of €260M new super-ferries designed to revolutionise transport between Britain and Europe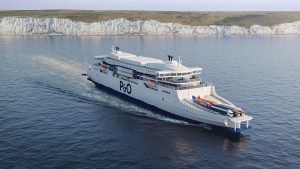 P&O FERRIES today releases the first official images of the €260 million new generation of super-ferries which will transform the experience of travelling between Britain and the Continent. The largest ships ever to sail between Dover and Calais, the first of the 230-metre super-ferries will be operational by 2023.
David Stretch, Managing Director – Short Routes at P&O Ferries, said: "These remarkable images provide a glimpse of the transformation which our customers will experience when they travel between Britain and Europe on the most sustainable, most reliable and most customer friendly ships ever to sail on the route. This major investment will be a vital part of Europe's transport infrastructure into the 2040s and symbolises our commitment to making trade flow for our customers."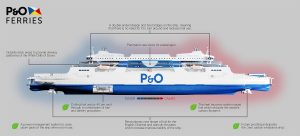 Major innovations of the new super-ferries will include:
Cutting fuel use by 40 per cent through a combination of fuel and battery propulsion.

The heat recovery system saves fuel which reduces the vessel's carbon footprint.

Future proofing anticipates the 'zero carbon emissions ship'.

A double-ended design and two bridges on the ship, meaning that there is no need for it to turn around.

Outside deck areas to provide viewing platforms of the White Cliffs of Dover.

Panoramic sea views for passengers

A power management system to efficiently close down parts of the ship when not in use.

A revolutionary new shape of hull for the English Channel and azimuth thrusters which increase manoeuvrability of the ship.