New Taipei begins free Wi-Fi on city buses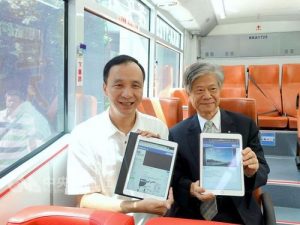 Taipei, Sept. 12 (CNA) Commuters traveling on city buses in New Taipei will now be able to enjoy free Wi-Fi on the city's 2,500 buses, Mayor Eric Chu (朱立倫) announced in a news conference Tuesday.
New Taipei leads other cities and counties in Taiwan in terms of free wireless network access, Chu said, citing as examples Taipei's mass rapid transit (MRT) system and the high speed railway, in which Wi-Fi services have yet to be fully installed.
Buses are the most heavily used mode of public transport in New Taipei, with ridership of nearly 800,000 per day, he said, thanking the city's bus operators for their support and for providing the convenience to commuters.
According to the city's Transportation Department, users will be able to connect to the Internet without having to create an account or provide a password.
Free Wi-Fi is available on city buses bearing a logo sticker that says "New Taipei Free Wi-Fi," and users can simply connect to the "NewTaipeiBusWiFi" service without having to log in with their personal Google or Facebook accounts, the department said.
(By Lin Chang-shun and Ko Lin)
Enditem/J