Former Philippine beauty queen promotes Taiwan tourism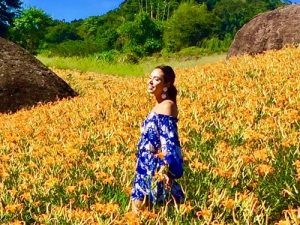 Taipei, Sept. 8 (CNA) Former Philippine beauty queen Maggie Wilson has been invited to shoot travel videos promoting Taiwan as a tourist destination to Southeast Asians, the Tourism Bureau said in its press release Friday.
This marked the second time that Wilson has worked with the travel bureau to help promote Taiwan.
She and another Philippine beauty queen Parul Shah were here earlier this year to film a 30-second-long video.
The new 60-second promotional video will feature some of the island's popular travel spots and recreational activities, including a tour of Taroko Gorge in Hualien County and visits to local indigenous villages.
The film will be made in collaboration with Sony Pictures Television Networks, Asia, and will be available from Nov. 11 on channels including AXN Philippines, SONY and Animax Philippines, according to the bureau.
It said the project is in line with the government's "New Southbound Policy," which aims to enhance Taiwan's relations with countries in Southeast Asia, South Asia, Australia and New Zealand.
The bureau also pointed to statistics which showed that the number of arrivals from the Philippines reached 161,303 from January to July this year, up 73.51 percent from the same period last year.
Among them, 68,186 were here as tourists, it said.
(By Chen Wei-ting and Ko Lin)
Enditem/cs