EVA Air ranked world's 3rd safest airline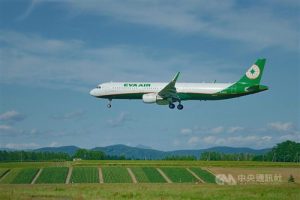 Taipei, Jan. 3 (CNA) Taiwan-based EVA Airways has been ranked the world's third safest carrier for 2020, maintaining its place on the top 20 list for the seventh year in a row, according to the latest rankings, which were compiled by an airline safety and product rating review website.
In the report published Thursday by AirlineRatings.com, which in previous years named the 20 safest airlines without giving the order, EVA Air was ranked third among the 405 airlines reviewed.
In response, EVA Air said in a statement Friday that safety is the most important issue in the aviation industry and a red line that cannot be crossed.
The airline has a safety culture committed to high standards of discipline, in aviation safety, safety when undergoing repairs, safety on the ground and occupational safety, EVA Air said.
EVA Air trailed Qantas and Air New Zealand, the report said, and was ahead of Etihad, Qatar Airways, Singapore Airlines, Emirates, Alaska Airlines, Cathay Pacific Airways and Virgin Australia.
Rounding out the list were Hawaiian Airlines, Virgin Atlantic Airlines, TAP Portugal, SAS, Royal Jordanian, Swiss, Finnair, Lufthansa, Are Lingus and KLM, according to the website.
Each airline's evaluation is based on a comprehensive analysis, including audits from global aviation governing bodies and leading associations, government information, crash and serious incident records, profitability and fleet age, the website said.
AirlineRatings.com Editor-in-Chief Geoffrey Thomas said in the report that the 20 airlines are standouts in the industry and at the forefront of safety, innovation and the launching of new aircraft.
The website, started in 2013, also identified the 10 safest low-cost airlines, in alphabetical order, as Air Arabia, Flybe, Frontier, HK Express, IndiGo, Jetblue, Volaris, Vueling, Westjet and Wizz.
(By Lee Hsin-Yin) Enditem/AW