China Airlines, Air France to provide codeshare flights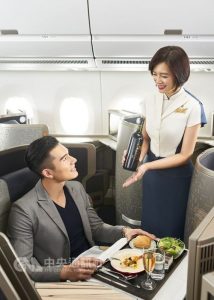 Taipei, Jan. 3 (CNA) China Airlines, one of the country's leading airlines, announced Wednesday it will partner with Air France to provide three codeshare flights a week from April 16, to better serve the Taipei-Paris route.
The route will be flown by Air France, which announced last month its intention to return to Taiwan after a hiatus of 20 years, flying from Taiwan Taoyuan International Airport to Paris Charles de Gaulle Airport.
CAL flight CI-9237 from Taipei to Paris will depart at 10:25 a.m. from Taipei and arrive in Paris at 4:20 p.m. every Tuesday, Friday and Sunday, while flight CI-9238 from Paris to Taipei will depart on Monday, Thursday and Saturday at 1:35 p.m. from Paris and arrive in Taipei at 8:15 a.m. the next day.
CAL said it has high hopes for the new services, explaining that since both airlines are SkyTeam members, the route could expand their mutual networks and eventually maximize benefits to the airline alliance.
Currently, EVA Airways, a rival of CAL, is the only carrier to serve the Taipei-Paris route, with one round-trip flight per day, which it has offered since 1993.
Johnson Wan (溫爾功), Air France-KLM Group's country manager for Taiwan, said Taipei will be the only Asian destination added to the Air France network in 2018.
Plans to reopen the Taipei-Paris route started nearly two years ago, Wan said, adding that the service could be especially appealing to business travelers, who are expected to account for more than half the passengers.
(By Lee Hsin-Yin)
Enditem/AW