Asian Federation of Exhibition & Convention Associations (AFECA) Annual Conference and Activities Hosted in Kaohsiung for the First Time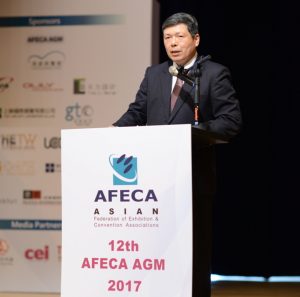 The Asian Federation of Exhibition & Convention Associations (AFECA), one of the most important international exhibition organizations in Asia, hosted its 2017 Annual Conference and a series of events in Kaohsiung on September 5th. The Conference was attended by over 150 exhibitors from throughout Asia, including representatives from the Malaysia Convention & Exhibition Bureau (MyCEB), Philippines Department of Tourism, Singapore Tourism Board (STB), and Thailand Convention and Exhibition Bureau (TCEB).
Walter Yeh, President and CEO of the Taiwan External Trade Development Council (TAITRA), who also serves as Chairman for the AFECA and Taiwan Exhibition & Convention Association (TECA), has expressed special thanks to Taiwan's Bureau of Foreign Trade, Ministry of Economic Affairs, Kaohsiung City Government, and TECA for their support and sponsorship in making the Conference possible.
On September 5th, a joint meeting was held by AFECA and the International Association of Exhibitions and Events (IAEE), a US-based key global association for exhibitions. Chairman Yeh from AFECA and 2018 Chairman-Elect Daniel McKinnon from IAEE served as Co-Chairs to lead the discussion about exhibition industry development trends in Asia and America. CEO Arun Madhok from Suntec Singapore International Convention and Exhibition Centre was also invited for a seminar to speak about his experience of managing a convention and exhibition center. Interactions and idea-exchanges from convention and exhibition industry participants were very warm.
This year, the AFECA Conference, Asian MICE Forum 2017 (AMF), and Joint-IAEE Conference were all hosted in Kaohsiung, where important figures from the convention and exhibition industry across the globe gathered, greatly enhancing Kaohsiung's international reputation. On the following day, AFECA hosted the AFECA Asia MICE Youth Challenge and AFECA Awards, where winners were announced.
AFECA is the only international convention and exhibition association in Asia that is founded by Asians. It was established in Singapore in 2005, while the first annual convention was held in Singapore in 2006. The Association's purpose is to promote the development of Asia's exhibition and convention industry, and to facilitate and establish standard operational practices. In addition to Taiwan, members comprise 15 countries/regions including Singapore, China, Hong Kong, Malaysia, Indonesia, India, Japan, the Philippines, Korea, and Thailand. Globally, AFECA has already become a representative of the Asian convention industry.
Copyright © 2017 Ministry of Economic Affairs